RATIONALE:
Intrathecal drug delivery system: Although intrathecal opioid infusion has been used for decades for the treatment of severe pain, myoclonus as one of the complications of this therapeutic modality is now beginning to be recognized more.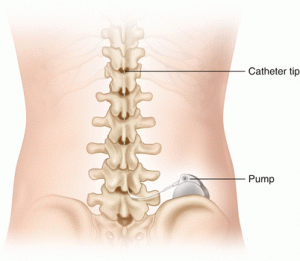 PATIENTS CONCERNS:
Here, we report three patients who developed myoclonus after dose adjustment in intrathecal drug delivery system for the treatment of refractory cancer pain.
DIAGNOSIS:
Spinal myoclonus is a sudden, brief, shock-like muscle contractions originating from the central nervous system. In our cases, it occurred after opioid administration via intrathecal delivery system with no abnormality found in laboratory or imaging examinations.
INTERVENTIONS:
Spinal myoclonus can be treated effectively by reducing the dose or infusion rate as described in case 1, or changing from an intrathecal to systemic administration in case 2, or correcting infusion and bolus parameters mistakes in case 3.
OUTCOMES:
All patients recovered quickly after stopping or decreasing the intrathecal drug infusion.
LESSONS:
Prevention is more important than treatment as for spinal myoclonus. Pain management teams should be aware of this distressing complication. Dose of intrathecal drugs should not exceed the recommended maximal daily doses by guidelines and patient education is important for successful intrathecal analgesic therapy.
---
Intrathecal morphine combined with ropivacaine induces spinal myoclonus in cancer patients with an implanted intrathecal drug delivery system: Three case reports.