In TLIF, we refer to interbody because it is intended to perform fusion at the level of the vertebral bodies. Transforaminal refers to the approach that passes through the foramen. The foramen is where the nerve root leaves. In the same surgical gesture, this space is extended through which the root comes out.
To understand the technique well, we recommend reading the post about the PLIF technique, which has some elements in common with the TLIF.
How is the TLIF technique performed?
Once asleep under general anaesthesia, the surgeon performs an incision, and the paravertebral muscles are removed to access the vertebrae. This involves separating the muscle from the bone and involves aggression that affects recovery.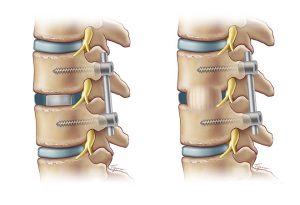 The route of entry is posterolateral. It goes a little more sideways than the posterior approach. In the PLIF technique we entered from behind, we removed all the lamina that is the bone that is in the posterior area of ​​the vertebra. Once this was done, two implants were placed between the two vertebral bodies, accessing one on each side. In the TLIF however, we will enter only on one side. It also acts on the lamina and the pedicle but much less than in the PLIF technique.
Once the surgeon accesses the disc, it is removed and a box is placed along with a graft between the two vertebral bodies. Bone graft is placed with the box. This allows both vertebrae to fuse over time.
As we did with the PLIF technique, everything is held in place by placing pedicle screws in the vertebra above and below. Then two bars are placed (one on each side) attached to the screws to immobilize the operated segment. Grafting is also added in this area to give greater chances of getting arthrodesis.
Advantages of transforaminal lumbar interbody fusion (TLIF)
Transforaminal access has some advantages. On the one hand, it avoids vascular complications that can occur in the anterior route. It is also less invasive than the PLIF technique and therefore has fewer neurological complications than this pathway.
You might also want to read: What is Extreme Lateral Lumbar Interbody Fusion (XLIF)?